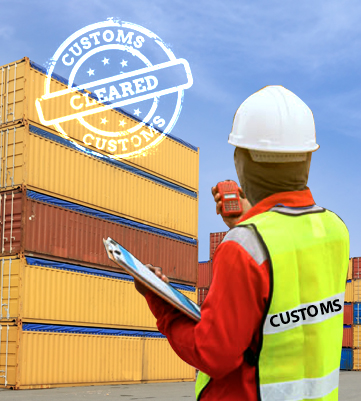 Custom Clearance
Since we are in service oriented industry, we understand and fully appreciate the need for efficient and timely service. We therefore have set internal standards of service to offer the highest level of satisfaction to our clients. We fully understand the customers need and we offer comprehensive services and solution to the entire needs of the customer under one roof. We do continuous monitoring, tracking and reporting of all consignment being handled by us to ensure optimal resource utilization.
COMPETITIVE STRENGTH & SALIENT FEATURES OF OUR SERVICE
Experienced, Dedicated, Loyal, Educated Young Manpower.

Very good relationship with all Carriers, Customers, Port officials.

Excellent time tested, communication network being established more than 10 years back. All outdoor are equipped with mobile phones.

Extensive use of computers and modern communication system in office management.

Separate customer service department to keep clients informed regarding matters related to their shipment at any point of time.

Direct access to departmental heads on their direct telephone nos. in addition to board lines.

We provide daily status report on, position of cargo.
OCEAN & AIR custom clearance (Import and Export)
Re-import of exported goods
Re-export of imported goods
Handling of Project Imports closures
100% EOU,STPI, EHTP
SEZ import clearance
EPCG imports clearance
Clearance against Advance License
Advice on Classification and Valuation Matters
Advice on Duty Exemptions Matters
Advice on Anti Dumping Notifications Matters
Classification, valuation, Exemption Notification, ADD, Safeguard Duty, Preferential duty and Rate of Duty disputes-
Now, the Government of India, Ministry of Finance has introduced Self assessment Procedure for imports and Exports consignments by making amendment in Customs Act 1962. Now responsibility of assessment of Rate of duty, claim of exemption notifications and imposition of anti dumping duty including valuation has been shifted to the importers and exporters. Now Customs department has limited its Role to check the violations done by the importers and exporters in their assessed import and export consignments. In coming years, there will remain only surprise checks by the Customs officers. The new regime will increase the number of adjudication cases by the Customs and the amount of penalties will definitely rise.
We provide classification, valuation, exemption notification or anti dumping notification, Rate of duty for the goods imported by our clients.
We will keep informed and update our clients with the latest notifications and circulars for the items in which they are dealing.
We provide advice on classification, concessions, and duty benefits for optimization of customs duty saving. We will inform the change of the rate of duty to our client from time to time.
We will advise on Foreign Trade policy and import procedures for the items imported by our clients.
We will advise the procedural issues related to 100% EOU and SEZ to our clients.
We provide advice on registration Project imports and clearance of project imports.
Special Valuation Brach related matters and their finalization.